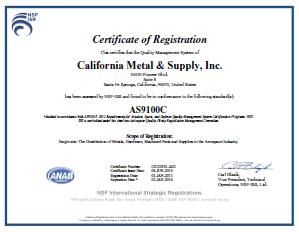 California Metal & Supply AS Certificate
 
We are proud to announce that California Metal & Supply has received its updated AS9100 certificate along with renewing its ISO9001 certificate. The AS certificate has been updated from AS9120 to
AS9100:2009, Rev. C
to accommodate manufacturing business with aerospace industry-specific requirements. Our compliance with the ISO/AS standards was certified by
NSF International Strategic Registrations
. NSF provides registrations to internationally accepted standards for quality assurance.
Our scope of registration covers the distribution of metals, hardware, machined parts and supplies to the aerospace, oil and gas, chemical and petrochemical, automotive, pharmaceutical and food and beverage processing industries.
To download California Metal's ISO9001 and AS9100 certifications, please visit:
http://www.CaliforniaMetal.com/iso.htm
.
About California Metal & Supply
California Metal & Supply Inc. is a Boeing Award Winning Supplier with 28 years of history supplying metals to major industries such as Aerospace, Defense, and Energy. It is an aerospace and aircraft metal specialist in supplying Titanium, Inconel, 4130, Stainless 13-8 15-5 17-4 17-7, A286, Magnesium sheets, plates, bars, tube & tubing products.
California Metal & Supply Inc.
http://www.CaliforniaMetal.com/
Call Toll-Free 800-707-6061
Titanium, Inconel, Nickel, Aluminum, A286, 13-8, 15-5 & 17-4 Specialist